My supply of emply 22lr cases has been used up while learning the ropes of making them into jackets for the .223. I could go buy a box of 22lr, do a lot of target practicing and have some more but I thought I experiment with making copper jackets from copper tubing. Don't know how well they will (or won't) fly yet but thought I'd post the progress so far.
I had a short piece of 1/4 in copper tubing that seemed to fit the bill so I cut off a piece that was .615 long. Made the punch a tad shorter than the tubing so that it would not bottom out in the die. Sharpened a 1/4 inch drill bit to a 45 degree angle and made the die.
First operation was to round over one end of the tubing that would become the bottom.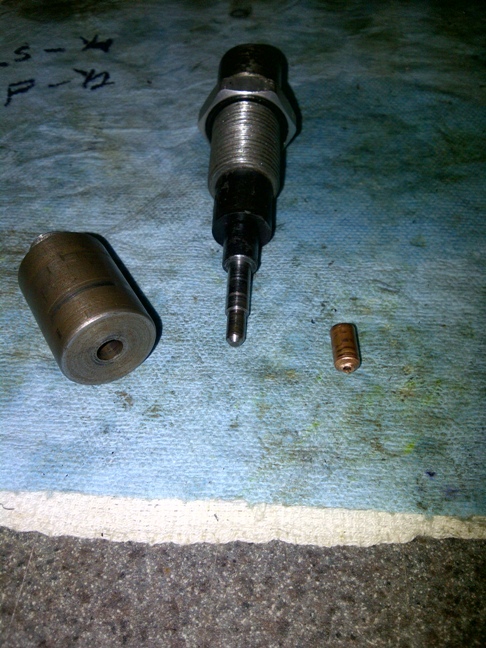 Next came the only annealing that was done.
Next came a series of four draws to lengthen and thin the jacket. I put a 1 degree taper on the punch. It is a witch to get the tubing off the punch without the taper and a good polishing. At present I am using some RCBS case lube which does pretty good.The dies are sized to reduce the jacket by about 3 or 4 thousandths each time.
First draw results.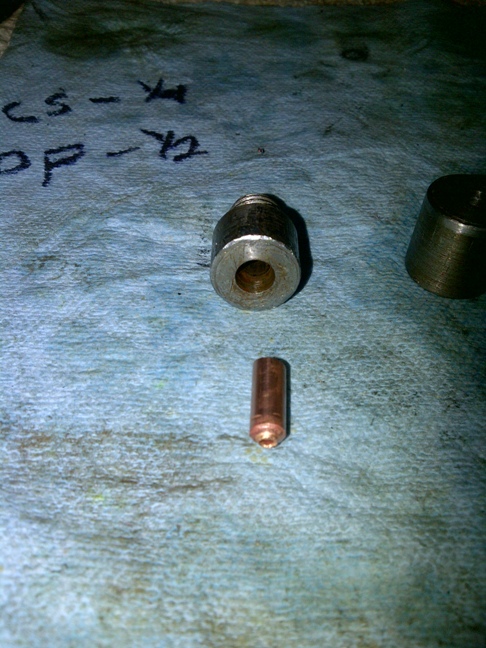 Second draw results.
Third draw results.
Final draw. The raw jacket was at .224 outside diameter and .188 inside diameter. Just right for the core. Length was .750.
Next was flattening the bases and trimming to .715 for a finished jacket.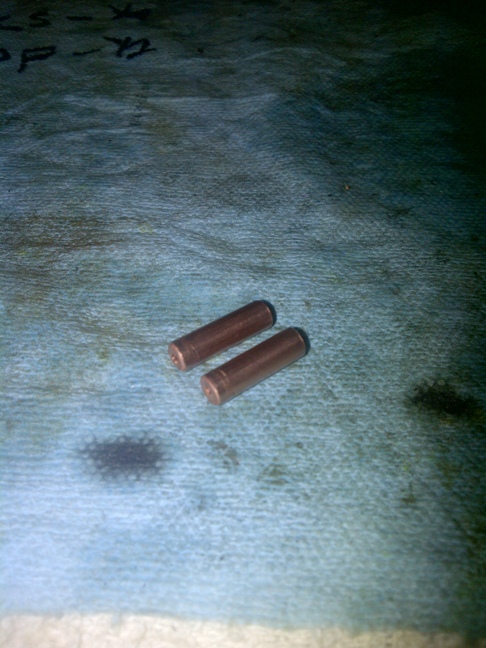 I seated a core in them, ran them through the point forming die, and did a final sizing back to .224. The one on the left looks a little odd because I ran it in a punch to be sure the nose was straight - I got a little happy on that one

Most of it ironed out but I don't think I will test with LOL!
It looks to me like the ogive starts too far forward but will have to shoot a few of them to see what happens.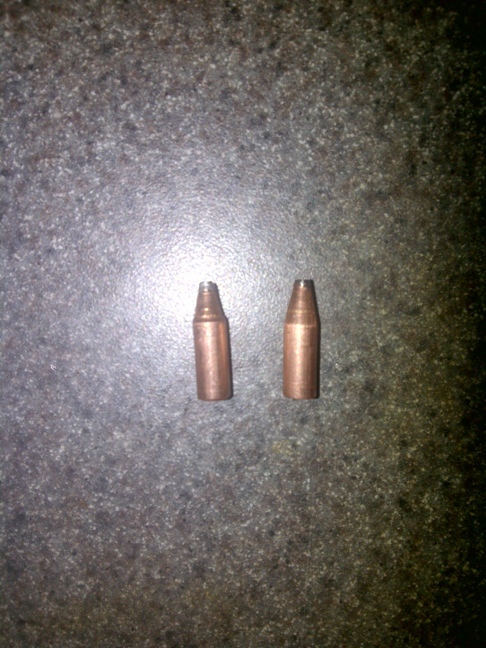 They may fly like a boat anchor, I don't know.

eagle60

Member





Posts

: 971


Join date

: 2011-01-02


Location

: East Central MS



OH WOW! They are looking really nice. The bases are nice and closed.

Pathfinder

Member





Posts

: 409


Join date

: 2010-10-18


Age

: 42


Location

: WestWinfield New York



Excellent work. keep it up!


_________________
You are finally comfortable with your casting capabilities when you find yourself casting boolits with sandals on!

hawcer

Mod




Posts

: 1896


Join date

: 2010-11-04


Age

: 47



Thanks guys. I'll test them out as soon as I can and post the results.

eagle60

Member





Posts

: 971


Join date

: 2011-01-02


Location

: East Central MS



Wow that looks good. IIRC Ammosmith over on YouTube there was doing a similar thing with copper tubing.

He started with a Harbor Freight mini cut off saw but quickly killed it as it is not designed or intended for production work. He bought another much more expensive and robust cut off saw, but I have not heard any reports of how the new saw is holding up.

FWIW I have a 3/4 full 5 gal bucket around here somewhere (house is total disaster, my reloading room had to get emptied to make room for my elderly Grandmother, so I have no clue where any of my shite is) of spent various rim fire rounds including some 17 HMR.

I was supposed to be making jackets with my 22 LR derimming dies but never got past the collecting of the spent rimfire hulls. Not sure when I will be able to get my reloading bench set back up.

scorge30

Member





Posts

: 675


Join date

: 2010-11-27


Age

: 51


Location

: Marysville, WA



Thanks Steve. That is what I'm using for now but yeah, it is no production machine lol.
I hope you can get your reloading bench set up somewhere and make use of those jackets! It's too much fun to stay away from for very long.

eagle60

Member





Posts

: 971


Join date

: 2011-01-02


Location

: East Central MS



thats some good lookn boolits Eagle

Reload3006

Member





Posts

: 1761


Join date

: 2010-11-19


Age

: 59


Location

: West Plains, Mo. , St. Louis ,Mo.



Thanks Reload. Yeah, they look a little better than that first batch of 22lr cases I was working with lol.

eagle60

Member





Posts

: 971


Join date

: 2011-01-02


Location

: East Central MS



---
Permissions in this forum:
You
cannot
reply to topics in this forum