Well I picked up a nice Sako Vixen bolt action rifle about a month ago. For some reason the previous owner (PO) had the rifle bored from .222 to .223 AI. Probably the least "improved" of all the Acklyized cartridges, but one of the most popular. Probably would not have bothered going to .223 AI if the PO had not already done it. From what I read gives about a 3% capacity increase, and 100 fps if that.
I wanted the action and barrel for a bolt action 300 Whisper project, but will keep it as it is for now until I shoot the barrel out. Might still send the barreled action to a fellow that will bore the rifle barrel to 30 cal using a cut method pioneered by Ackly himself. But for now having fun playing around with the .223 AI which until now is a round that I had read a lot about, but never got a chance to work with.
Has the Sako stock 1-14 twist barrel so likes the light stuff. I have some 40 and 34 gr Nosler, Hornady, and Barnes fodder that I am loading up. Some early work so far appears that the rifle likes OK 52 gr Hornady A-Max over a hand metered charge of 28.7 gr of H335. Cartridges are Winchester nickel, with a Fed GM205M primer. OAL (for now) has been 2.28" putting the bullets about .003" off the lands.
29 gr of H335 was looking a little dodgy with primers a bit puckered, so backed off in .03 gr increments. Also working with H332, Benchmark, TAC (my fav go to for .223), Zip (new powder to me), and A2015.
Cartridges have been "bench rest analized" meaning they have all had the primer pockets uniformed, the flash hole has been chamfered, and the necks have been run through a collet. Might turn some necks to see if that improves grops in the next batch.
Whoever did the work did a decent job, but the clip does not hold the larger .223 AI round so it is a single shot until I figure how to either get a new mag or modify the current mag.
Groups have been pretty decent for picking a load from a book and shooting it. I shot 50 rounds yesterday, loaded some different rounds last night, and put a better scope on the rifle.
I'm off to the range here in about a half hour as it should have warmed above freezing by now at the range. Hard to shoot accuratly when your teeth are chattering.
Will post more pics of the rifle and targets later.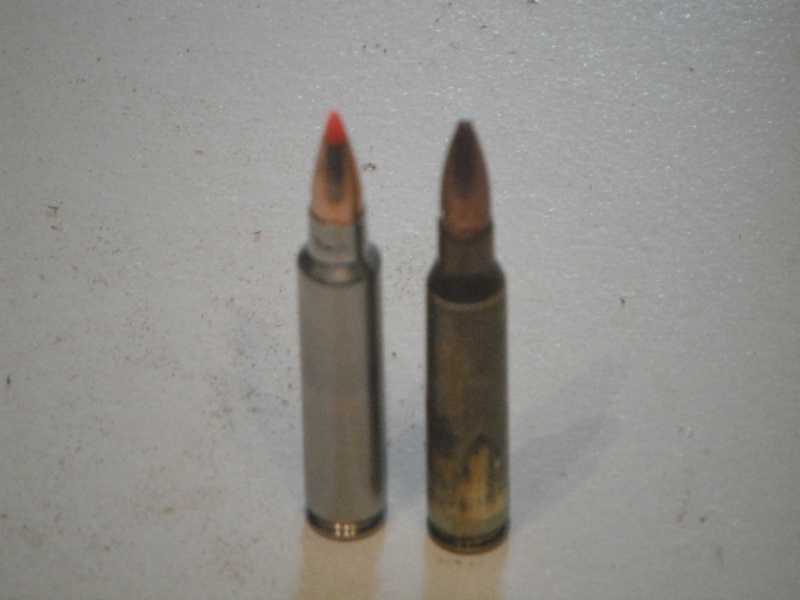 Steve

scorge30

Member





Posts

: 675


Join date

: 2010-11-27


Age

: 50


Location

: Marysville, WA



Hey Steve, sounds very interesting to me and I agree the 300 Whisper would have been a much more appropriate conversion. Good luck with the new rifle.

chingachkook




Posts

: 46


Join date

: 2011-11-01


Age

: 72


Location

: Mohawk Valley



Well had the rifle out for a few days, put a new scope on it and some more range work.
I mounted a Burris 3x9 50mm E1 scope on it that I bought at Cabela's on the clearance rack. New never opened and factory sealed. About a $100 cheaper than the Leupold I was eye balling and was intrigued by the aiming points in the scope.
Got scope home, and have always been pleased with my other Burris scopes. Glass is nice and clear and the aiming points are easy to pick out.
PO had mounted some firly high rings on the rifle so easy to clear massive 50mm objective. Mounting scope was easy but hmm whats this? Made in the Philippines!?! WTF!?!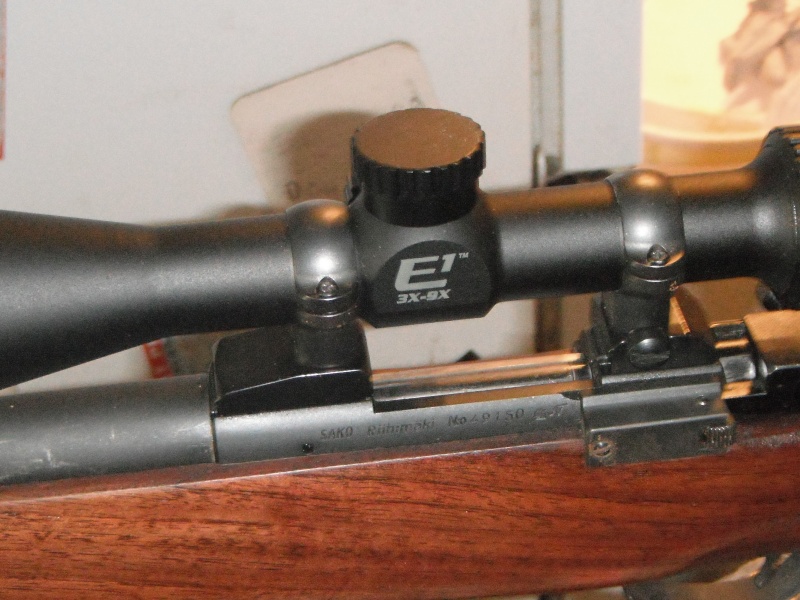 Looked all over the Burris box says nothing about being made in the Philippines. I assumed the scope was made here like my other Burris scopes. Minor irritation still a nice scope but I wish Burris would have clearly labeled the box, I kinda feel like I got taken. Here I am thinking that I am supporting American workers, and I am not.
Still a nice clear scope, tracks well and the aiming points are nice without having to crank on the scope. Would I have bought it had I known it was made in the Philippines? Hmmm, doubtful.
I had to give the rifle a good scrubbing, had some rust from the trip, poured rain the whole time. Metal rusts quickly here, I might Duracoat this rifle or have it plated - not sure yet.
Still shooting 1/2" groups at 100 yards with the 52 gr A-Max, but really seems to like the 45 gr Nosler. Was shooting 3/8" at 100 yards. More tweaking is needed and some scope adjustment.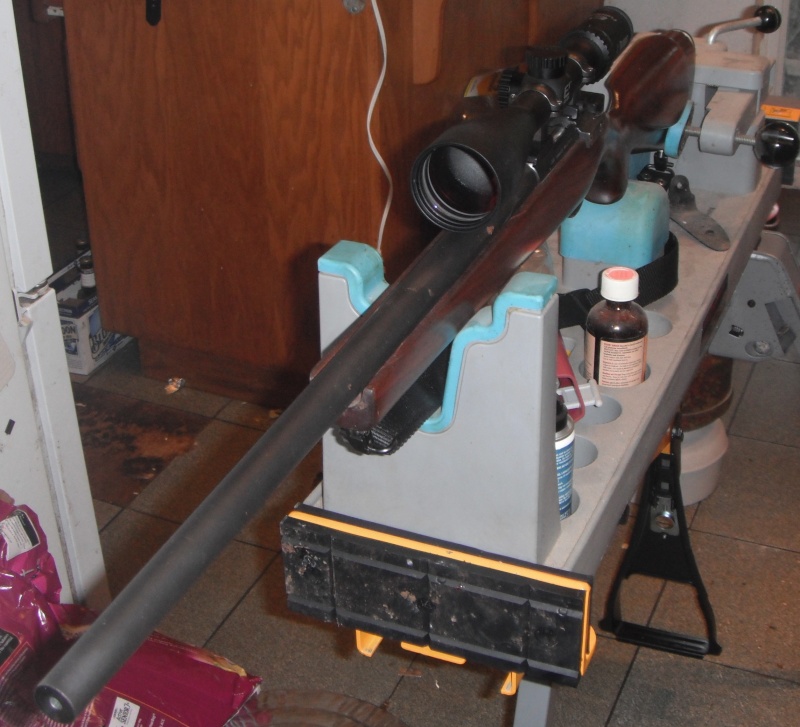 scorge30

Member





Posts

: 675


Join date

: 2010-11-27


Age

: 50


Location

: Marysville, WA



Well I shot a little different load today with the Sako.
24.25 gr A2015 CCI SM Rifle primer and a 50 gr Barnes Varmint Grenade OAL 2.28
At 100 yards you can see the results below: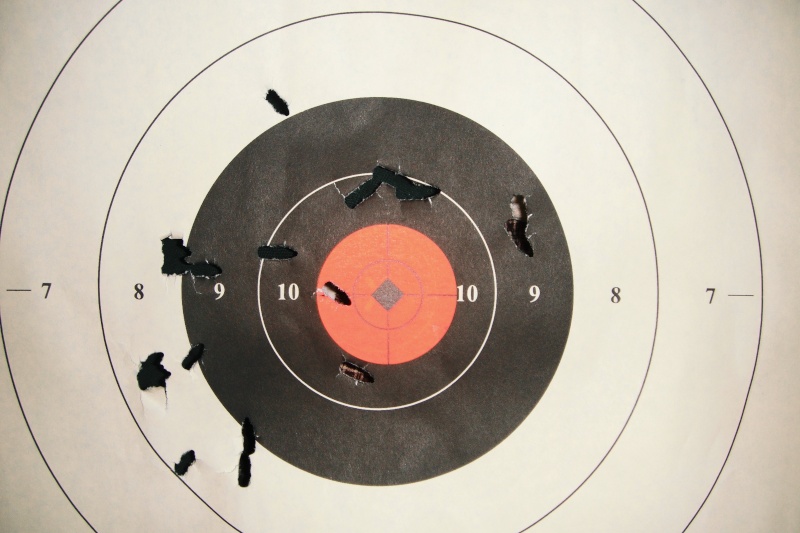 The bullets were key holing. I am trying to remember what that is supposed to tell me?
Too fast of powder? The barrel twist is 1-14 so the 50 gr bullets are probably too heavy for it.
Back to the drawing board!
Last edited by scorge30 on Wed Nov 30, 2011 10:26 pm; edited 1 time in total (Reason for editing : Misstyped OAL)

scorge30

Member





Posts

: 675


Join date

: 2010-11-27


Age

: 50


Location

: Marysville, WA



try speeding things up the bullet isn't going to sleep fast enough IMO at least I think so LOL

Reload3006

Member





Posts

: 1761


Join date

: 2010-11-19


Age

: 58


Location

: West Plains, Mo. , St. Louis ,Mo.



The PO was using H335 with 52 gr A-Max and was getting decent .5 inch groups at 100 yard.

I am not sure the 1-14 twist barrel finds the 50 gr Barnes Varmint Grenades too heavy.

Maybe a slightly stiffer powder charge? Maybe the rifle does not like A2015?

There are many variables here I can change like using either a bench rest or small rifle magnum primer.

I'll leave everything else same and try upping the powder charge a bit. Perhaps the rifle just does not like A2015. It would not be the first time that I have a rifle that is powder picky.

scorge30

Member





Posts

: 675


Join date

: 2010-11-27


Age

: 50


Location

: Marysville, WA



---
Permissions in this forum:
You
cannot
reply to topics in this forum