While I am waiting on parts for the little Sako, I decided to try to get one of my other rifles pillar bedded and repair the stripped out rear screw hole.
My old Savage 110E in 7mm Rem Mag is a great rifle and has served me well. I picked it up used from Gunbroker a few years ago and noticed the action jumps around in the stock when I shoot it. I have already replaced the factory plastic trigger housing with a metal one from MidwayUSA. When I replaced the plastic trigger housing noticed the rear wood screw just fell out, completely stripped out of the wooden stock.
So today I got a chance to get out to the shed and my little Harbor Freight drill press and hog out three holes in the stock for aluminum pillars. The bedding pillars I got from this chap on Ebay:
http://www.ebay.com/itm/251027123531?ssPageName=STRK:MEWNX:IT&_trksid=p3984.m1497.l2649.
He makes aluminum pillars for several different makes of rifles, the prices are not bad and shipping is quick. I have used several of his pillars on various Mauser projects but this will be the first time I will use his pillars on a Savage. I am not that fond of the epoxy he sells for bedding I much prefer Defcon steel bed, but each to their own.
If you are not familiar with a Savage 110E which is the older model with tang safety, it has a unique flat area ahead of the trigger. The Savage 110 bedding pillars this chap sells have a flat area milled into it to account for the action resting against the pillar.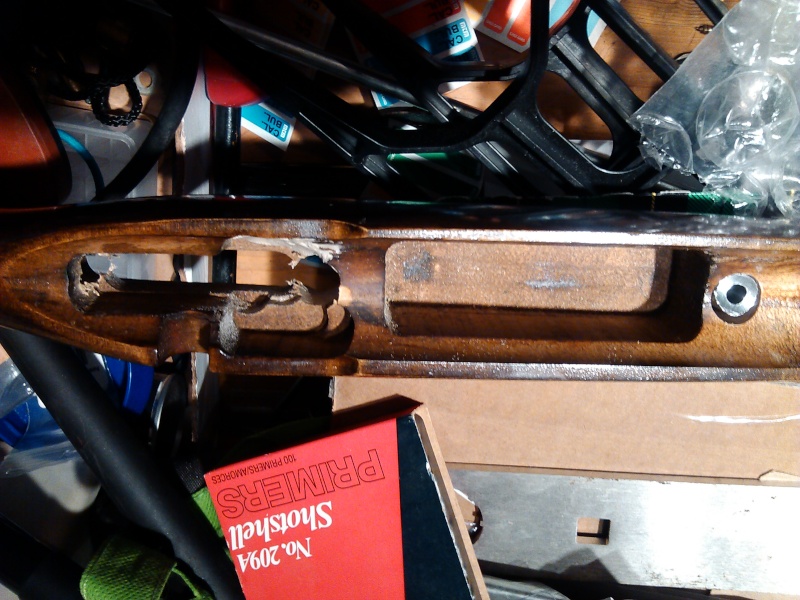 I got the stock drilled in three places. For the rear aluminum pillar I again bought from a seller on Ebay that I have dealt with when I was doing my two 10-22s:
http://www.ebay.com/itm/Rifle-BEDDING-PILLARS-7-16-1-2-OD-Ruger-10-22-stock-/220726405109?pt=LH_DefaultDomain_0&hash=item336451a7f5
I will use the thinner diameter pillar in the rear. I cut it in half with my chop saw, and then drilled and tapped it for the same thread count as the other two action screws. I am hoping this will give me three solid points to screw my stock to the action of the Savage.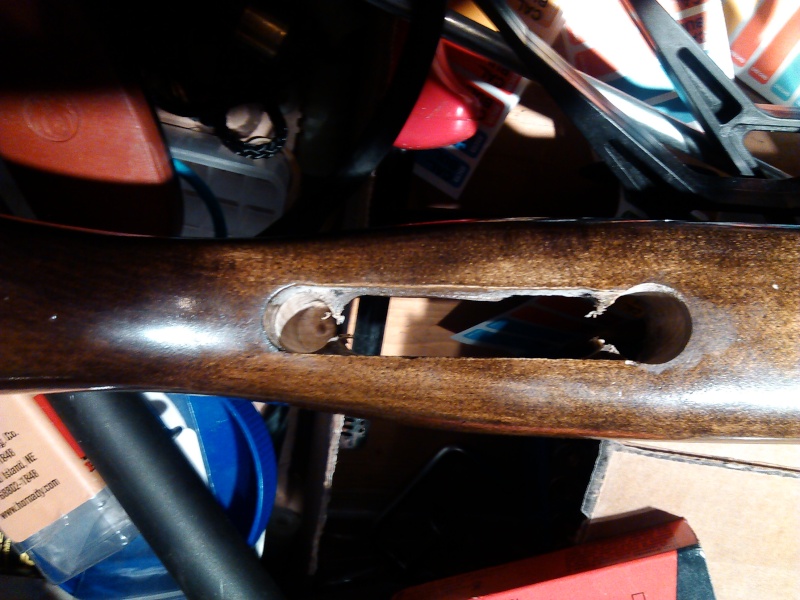 Epoxy is drying now in the front hole. I have decided to do the two action pillar in two steps. The first step is just enough epoxy to hold the pillar in place. Then I will pack the trigger area with Play Dough and slide the rear pillar in place. The Play Dough will keep the epoxy from getting into the trigger assembly.
Last edited by scorge30 on Wed Oct 24, 2012 2:54 pm; edited 1 time in total (Reason for editing : Stupid cut and paste failure)

scorge30

Member





Posts

: 675


Join date

: 2010-11-27


Age

: 50


Location

: Marysville, WA



---
Permissions in this forum:
You
cannot
reply to topics in this forum